Vestya Shop is an artist-run, online clothing shop based on sustainable principles and created to help us all become more conscious creators and consumers. We care for our planet's health and aim to create a brand that is not only a shop but also a platform to raise awareness of the problems created by the fast fashion industry and to open channels for the discussion and promotion of sustainable alternatives in the clothing industry.
For this we've created a print on demand online wear shop, where only ordered products are produced. This allows us to offer an array of designs, all inclusive sizes and apparel colours for customization meanwhile keeping affordable prices and reducing waste to a minimum.
Our Values
We are committed to finding sustainable market solutions and have chosen only high quality certified eco-friendly products to be sold in our shop, produced by like minded companies that not only are sustainability aware but also keep transparency in their supply chain and practices, in accordance with our values.
As a way to counteract the greenhouse gas emissions that we cannot avoid causing, such as our website hosting or the production and shipping of products, we are donating 5% of each sale to projects working on environmental preservation and regeneration.
In the long term, we aim to further develop a circular economy by creating proactive social groups, connecting with local producers, expanding our catalogue to sell upcycled items and work with other artists and designers. If you wish to get involved, please get in touch!
Our Products
We search for the most "clean" products possible, both in terms of their manufacture and the conditions under which they were produced. We have chosen our products based on their high quality and eco-friendly certification. They are all Vegan, printed using water-based inks and have the GOTS 5.0 label which certifies: use of Ecological dyeing; no pesticides, insecticides or GMOs used in its manufacture; and decent working conditions and wages for farmers and workers.
In our catalogue we offer products made of two different types of ecological textiles:
100% organic cotton: Cotton is a resource-hungry material (especially water) and its cultivation often involves the use of substances that are harmful to health (pesticides, insecticides and other chemicals). That's why we choose to use a more sustainable alternative, Organic cotton which is a healthy crop that requires much less water consumption (on average 40 litres for a T-shirt compared with 2700 litres needed for other cotton).
Recycled textiles: Fabric obtained by the reuse of fibres from clothing offcuts (in the case of recycled cotton) or by transforming non-renewable materials such as plastic bottles into (recycled polyester).
All in all we can say our products are made with love and care to last long.
Our Partners
Vestya was founded and is currently run by Diana Matoso aka Ds WAY, an artist designer who from an early age developed awareness for environmental matters.
Our production is done by TPop, a print on demand company based in France which offers a wide range of eco-responsible and ethical products. They also guarantee a 100% recycled and recyclable, plastic free packaging and the world's leading carbon-neutral postal operator for deliveries.
For our carbon offset, we have associated with Movimento Gaio, a local association of water and oxygen planters, working on the conservation and repopulation of native trees in Serra da Freita.
For our web hosting we chose Greenhost, a dutch company running all their services with 100% renewable energy from local windmills and committed to strive towards maximal sustainability in every step of their production process.
Our Prices
We wish to be transparent with all our processes and so we've decided to share with everyone how we've calculated our prices. To the factory price we've added between 10-20%, then we divide the total of each product sale profit as follows: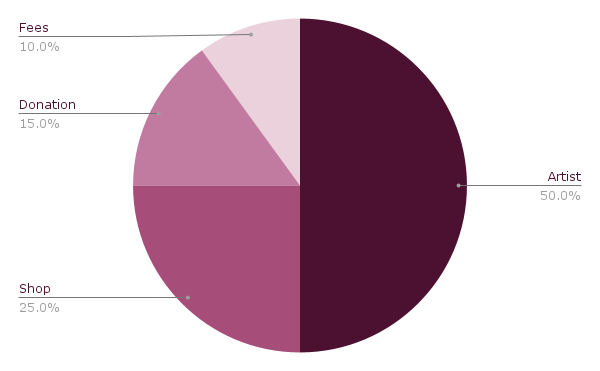 For example, an Oversized T-shirt Dress has the production cost of 22.49€, we've added a commission of 11% and charge you 25€, so we'll have 2.51€ profit from which 1.26€ go to the author of the design, 0.63€ to the shop, 0.38€ to the carbon offset donation and 0.25€ are used to pay fees.
We have decided not to include the shipping cost in the price so we can be as fair as possible, as quantities vary and some products have more expensive shipping then others.
We wish to make our products accessible and for this reason we've tried to keep our commission low, which means we can not do big promotions and this is why you'll never see a 25% sale on our shop, because the maximum commission we've applied was 20%. Think about that when you see a shop offering XZ amount of discounts, it's because their usual price is over at least XY amount over the production price.